FETCHING
Fetching In The Making - est. 2020
Even at 8 weeks old, Larry was the most fetching pup in a bow tie. He's the reason this amazing bow tie journey began.
At Fetching, our bow ties are available in a variety of patterns and styles to suit your pup's every mood, and occasion. We make a variety of tuxedos, bandanas, collar bows, florals and so much more.
**All accessories are handmade.
Fetching Collections
Along Came Molly, and Her Closet
Our adorable Molly joined our family in December of 2019, and shortly thereafter Molly's Fetching Closet was born. Cute as fluff is our sassy little pup, and it's also how we like to describe the fashions found at Molly's Fetching Closet. Molly is one particular little fluff ball, who knows what she likes, and fashion is no exception to this. Like Molly, we are very particular with the clothes we sell. Our clothes are carefully selected, keeping the current styles and trends in mind. You can find these awesome styles here!
SAVE 20% ON PET PORTRAITS
CHRISTMAS/HOLIDAYS COLLECTION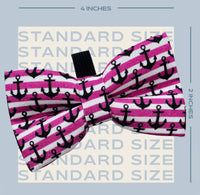 STANDARD BOW TIE SIZE
The standard size of our bow ties is approximately 4 inches x 2 inches (give or take a 1/2 inch or so). We find that this size works well for all dogs. If you would like a larger or smaller bow tie, just send us an email once you've placed your order. Our email address is fetchingbowties@gmail.com. OR DM us on Instagram @fetchingbowties.